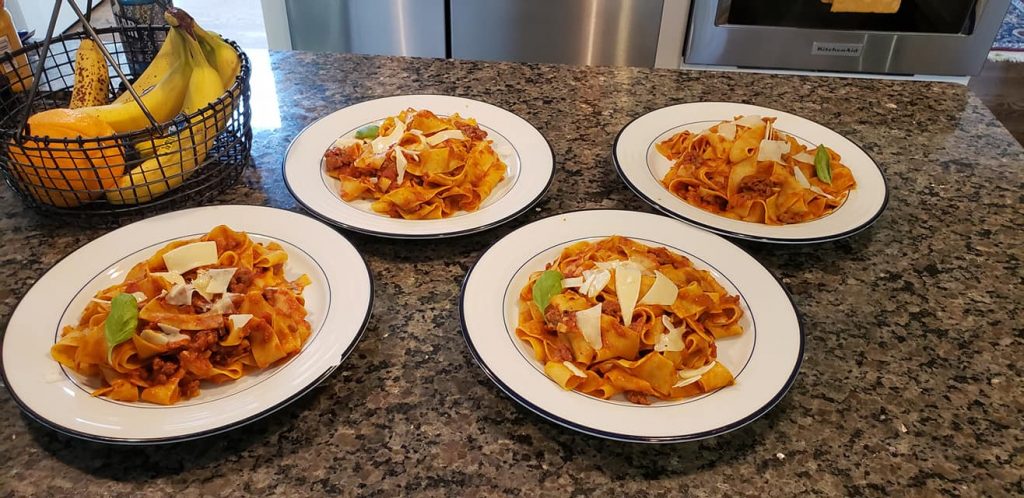 I found this recipe online and adapted it a bit. I switched the fetuccine out for egg parpadelle, and it makes all the difference. This is an amazing dish for a cold winter's night. Don't let all the garlic scare you away, it's roasted, making the garlic warm and sweet.
Yield: Serves about 4-6
Ingredients:
• 3 whole heads garlic
• Olive oil
• 1 onion, finely diced
• 1 celery rib, finely diced
• 1 large carrot, finely diced
• 1 clove garlic, minced
• 1 pound spicy Italian sausage, casings removed
• Salt
• Black pepper
• 1 teaspoon Italian seasoning
• ½ teaspoon dry oregano
• 3 ounces tomato paste (about half a can)
• 1 cup dry red wine
• 1 (28 ounce) can crushed tomatoes
• ½ cup half & half
• 1 tablespoon chopped flat-leaf parsley
• 1 tablespoon chopped fresh basil, plus extra leaves for garnish
• ½ cup grated pecorino Romano or parmesan cheese
• 10 ounces fettucini noodles, cooked and held warm
• Shaved parmesan, for garnish
Preparation:

-Preheat the oven to 400°.
-Cut the tops off of the 3 heads of garlic, drizzle with a bit of olive oil, and wrap tightly in foil; place the foil-wrapped garlic heads into the oven to roast for about 40 minutes, until soft, sweet and golden-brown; once roasted and slightly cooled, squeeze the cloves from the papers, and mash into a paste; set aside.
-Place a large dutch oven or heavy bottom pan over medium high heat; drizzle about 3-4 tablespoons of oil in, and once the oil is hot, add the chopped onion, celery and carrot in; stir the vegetables and allow them to cook for about 10-12 minutes, or until softened and golden-brown.
-Next, add the one clove of minced garlic in, and stir; once it becomes aromatic, add the spicy sausage meat into the mixture, and stir, breaking it up with your spoon into smaller pieces; cook until the sausage is cooked through, about 5 minutes or so.
-Add a couple of pinches of salt and pepper, and the dry oregano and Italian seasoning, and stir in.
-Next, add in the tomato paste, and stir, allowing it to cook for about 1-2 minutes to cook out the raw flavor; add in the wine and allow it to reduce for a minute or two, until thickened.
-Add in the crushed tomatoes, the half and half and the reserved roasted garlic "paste", and stir together to incorporate (it may look like it slightly curdled, but it will blend in nicely while the sauce simmers), then place the lid on partly askew to allow just a little steam to escape, and simmer the sauce on low for about 30 minutes.
-Finish the sauce by adding in the chopped parsley and basil, plus the pecorino Romano or parmesan cheese, and stir to blend; check the seasoning, and add more salt/pepper if needed; then, add in the cooked fettucini, and using a pair of tongs, gently fold the pasta with the sauce; drizzle with a little additional olive oil for a bit of extra richness and gloss.
-Serve in bowls garnished with torn basil leaves and shaved parmesan, if desired.